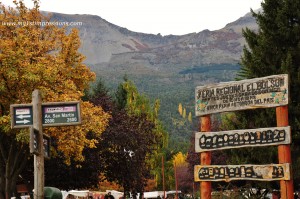 Only 2 hours bus from Bariloche, that for Argentina is almost like you can go walking, among beautiful mountains peaks coloured by the warm autumn Nature, lays El Bolsón, a village what wouldn't attract the attention of anybody if it wasn't for the fact that it has been chosen by a hippie community as their base in the 70's and still keeps the relaxed peaceful atmosphere they meant to create.
Every Saturday there is an handicraft fair where they can sell all their home-made products, bags, toys, necklaces, rings, clothes, marmalades of the near forests fruits and biological food.
Listening to some of the people living here, and looking around, it looks like this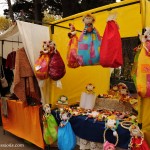 fair must be very popular in summer, when people escaping Bariloche may come here for a bit of alternative vibes.
There must be something in certain places chosen by these people around the world as their home base. This village remembers me of Nimbin, in Australia, where a peaceful community of chilled people lives of their own made products as well.
What I liked f this place is the fact that the local people love their visitors. I could feel it in the way they all talk about them as well as the they treated me and who, as me, came here. When an old woman in the bus asked the local driver where she could eat something good, he showed her lots of places and each of them with its own characteristic, rather than sending her to the first one around the corner. At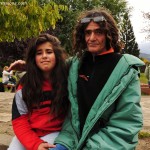 the market the same, they don't make you feel like a tourist at all, and they don't abuse you trying to sell you anything at all costs. I found it exquisite chatting with some of them about their hand made product and with some others about their life in El Bolsón. I spoke for a while with one of them, Daniel, an Argentinian with French descendants, who was living there since 40 years. He lives in a house in  the forest and sells necklaces at the fair, as ll the Argentinians met so far, he loves talking about politics, but his point of view s different, he has the tranquillity of someone who just likes to enjoy his life. We spoke a bit about everything, abut the price of the meat that in Argentina is incredibly expensive ( and he is not the only person who told me this so far), and considering how much Argentinians all love eating meat and how famous their meat is around the world, this is ridiculous and even Daniel couldn't find an answer to it. He told me about other people living in El Bolsón, some of them who came to visit it, left, and then came back for good. He spoke about how these people find a house there, as sometimes they cannot afford it nd they occupy it, something you could never do it in another place. Everybody seem to know each other here, and everybody is friendly. Smoking is not considerate a crime in this town, everybody has a plant at home, and police tolerate it  so crime for this doesn't exist s well as contraband. These people are very open minded and they are aware of this. For Daniel, life  in Buenos Aires must look like so absurd and far from his reality. In El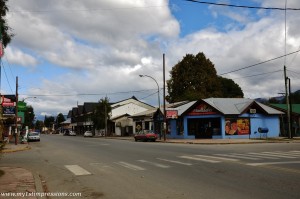 Bolsón life goes slowly and chilling, people around seem don't care too much about the rest of th world's problems.  Despite this, he loves his country so much. He was not the first to describing me how beautiful this country is. Other amazing people all over around were playing music and offer themselves for a photo when they saw me with a camera. They were not street artists, they were more like inhabithants of the town who fully enjoyed the contact with those who come to visit them. They have the world going there every week to meet them, and they love it. I haven't seen so many places in the world similar to this one, thevibes were genuinely pure and goods.
El Bolsón is the last avanpost before heading South though the Pampas, fop kilometers of nothing in the middle of nowhere. It's one of those spot to be remembered for sure.
Add comment