Meet Sanne from I-Like-Local
Sanne is the founder of I Like Local and currently living in Nairobi, Kenya. She is an entrepreneurial mind that loves to travel and meet people from different cultures. She believes that current systems need to change in order to keep up with today's challenges and developments. With I Like Local she hopes to contribute and show that you can combine profit making and creating social value at the same time.
Sanne, you just moved to Nairobi, in Kenya, a bit far and a bit different from Holland where you come from. What did it bring you there? Tell us a bit about yourself.
I simply love exploring and immersing in different cultures whether it's via travel or living abroad. Since the first time I lived abroad in India in 2006 I never stopped traveling and living in different countries. In the mean time I have lived in Brazil, Hong Kong and now in Kenia and traveled to over more than 40 countries. This passion is also the reason I have quit my job in 2011 as a business consultant and started my own travel company I Like Local that offers unique, local experiences to travelers and at the same time gives back to local communities.
What was your 1st impression of Nairobi and of Africa?
I immediately felt at home. Although Kenya is completely different from the Asian cosmopolitan city of Hong Kong where I just moved from, it has a relaxing vibe. Where Hong Kong is all about money, entertainment and luxury, Nairobi is focusing on getting the basics right. A city that is developing fast and that has a lot of potential. Construction projects are everywhere, there is a lively entrepreneurial community and more and more international corporates are settling here. Something that you will notice quite soon is that Africans don't look ahead; they just live in the moment. This brings some frustration now and then, especially when you have made an appointment and they don't keep their promise.
Did you have a culture shock or did you manage to integrate quickly into the African vibes?
No, so far so good. I didn't have a culture shock up to now. I can't say that I am fully integrated after 1,5 month, but I am working with Kenyans and am part of a community of local entrepreneurs which definitely helps to get to know more about the Kenyan culture.
Nairobi is a big city and probably like all the African capitals, there are lots of contrasts and contradiction. What is the thing you love the most and the one you dislike?
What I love is the friendliness of the people and the vibe. There doesn't seem to be a rush. What I like less is the fact that it's less safe. You always need to be aware of the possibility of being robbed, especially when you are a mzungu (white man/woman) you are standing out between the local people. There are rich people, but also many many poor people.
Now tell us a bit about I Like Local and if Africa is going to be part of it in the future.
I Like Local is a sustainable travel platform that offers travelers the possibility to book unique, local experiences with and directly from locals in emerging markets. From fishing with a fisherman in Sri Lanka to staying on an organic farm in Nepal. Goal is to create win-win: in-depth experiences for travelers and a worldwide market plus a simple way to earn money for local communities. Yes, I Like Local will offer opportunities in Africa as well coming year! We just started exploring the options here.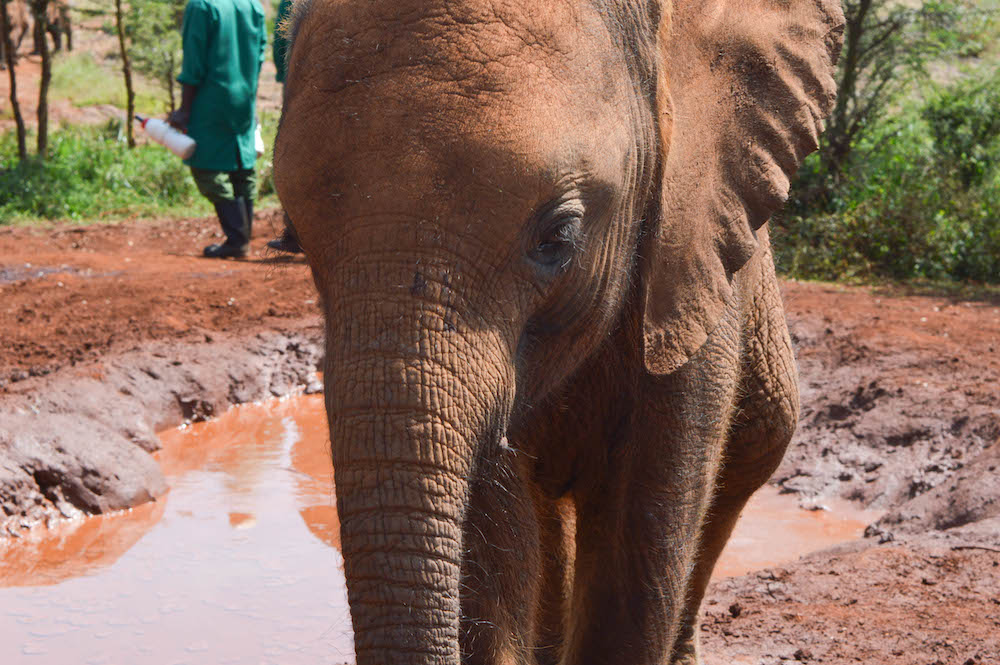 We talk about senses at My1stimpressions.
If I name the 5 senses, can you link them in one word with something of Nairobi?
To see wildlife in Nairobi National Park, just around the 'corner'
To taste the fruits and vegetables that are so delicious and cheap
To smell the mix of spiciness, a kind of an incense smell that I think is typical for Kenya
To hear the rooster in the morning in the middle of the city
To touch a baby elephant orphan that lost his mother due to ivory poaching at the Sheldrick Orphanage
What do you miss the most of home in Holland?
Mmmm, I never really miss something from my home country normally. If I have to choose then it are the famous Dutch 'Stroopwafels' and 'Speculaas', amazing cookies!
GREAT NEWS!!!!
My1stimpressions and I-Like-Local are partnering together to give you the chance to live an unforgettable experience! Book now your next adventure with locals in Asia and Africa and get 10% discount on your next adventure with I Like Local by inserting the promo code My1stimpressions in the promotion save on the booking form.