BY ELISA
To tell the truth, I've always considered boring such a kind of trip, or at least not a priority, as I always preferred exotic places, and the United States were not on the top of my 'Traveler Agenda'.
Nevertheless, if you have been waiting to meet again a close friend for a long time, well, you end up traveling there and take the chance to better know this Nation.
We cannot generalize too much in describing such a big country and my impressions has been changeing a lot, depending on the place and people we met. For sure, I had wonderful surprises during my one month travel with 2 friends.
Part 1. ON THE WAY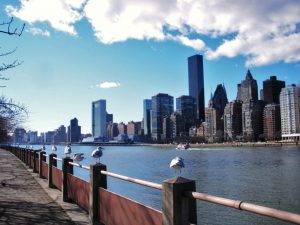 PHILADELPHIA. If you like American history this place is a nice stop to breath the historic atmosphere were the 13 colonies signed the Declaration of Independence, started to discuss about the slavery abolition and the Right to Happiness that the State has to guarantee to all citizens. If you do not focus only in the Liberty Bell (the famous bell symbolizing the Independence War) you can discover very nice places in Philadelphia and go back to the Eighties. It was a nice introduction to the States!
NEW YORK. It is difficult to define New York… For sure it is more than I expected! Apart from the famous places and avenues that give you the impression you have already been there, New York has so many different views of its skyline and you can never get bored! And its lights at night, make you feel comfortable in the modernity. Lots of people run everywhere and at all time in New York but you don't feel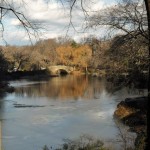 suffocated. On the contrary, there is so much space around you and the sky is so close from the top of the 100 floors Empire State Building! New York is the good aspect of capitalism: entertainment, fun and western development. That's why it gives you lots of energy..I think. But you can discover also silent corners or different multi- ethnic areas closer to the everyday life of "normal people".
PITTSBURGH. This town was a real discover. We loved it! The skyline of Pittsburgh from mount Washington, with its bridges and rivers, is gorgeous! The town is not very big but it can be surprising. We loved discover old corners under the snow, Andy Warhol's murals, interesting places where to eat, hang out, listen to concerts.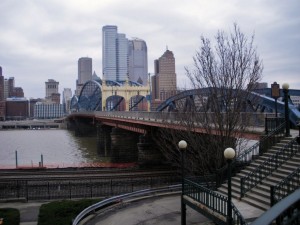 We loved many old style places with eccentric furniture from the Fifties. Pittsburgh is a town with tons of Italian immigrants or American with Italian origins, very proud of it and nostalgic as well. I stopped there several time. It's the place where my friend lives and where people make me feel at home.
WASHINGTON DC. It is the Capital and in winter you can have very a romantic view of the Capitol under the trees with multicolor leaves (red, yellow, brown..)…and that's what we had!
Part 2. ON THE ROAD
NASHVILLE, TENNESSEE. This is already the beginning of my third week of travel. After visiting part of the North we decide that we could not leaving without knowing better the South and, of course, enjoy it a bit! That's why we rented a car and we drove to Nashville. This town is the hometown of country music. To get to Nashville we drove from Pennsylvania, we passed by West Virginia and its mountains, we continued in Kentucky and its grasslands and we arrived in Tennessee.
Driving across the States is great! You get exactly the idea of the variety of this Nation and its inhabitants!! It was a great sensation..looking for the right road with the maps, stopping to many different towns. Nashville, is a town where you can listen to music and dance. All the best emotions can be captured through your ears. 90% of the population in Nashville is a singer, play in a group, write songs or has some relation with that. Music is part of everybody's life!
LAS VEGAS. First impression of Las Vegas? It is a crazy world, like Disneyland for adults. Too much for us! Casinos are everywhere and they reproduce important placed or town in the world. Places are so big that you enter and you can get lost. You can find easily a fake Statue of Liberty, the Eiffel Tower and..even Venice, with a fake San Marco Square, canals and gondolas .We could not believe that. Lots of waste in terms of energy and electricity! And money in the slot machines…of course. Las Vegas was our departure point to our 7th Stop.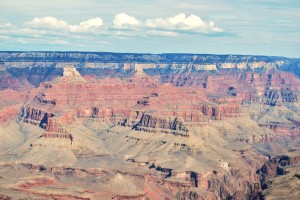 GRAND CANYON! We drove from Las Vegas in Nevada through the Arizona desert and stopped in Williams, a small town built along the Historic Route 66. Only the pictures can partially describe what we saw and I we felt. The Canyon is huge and Colorado river can be seen from some points. We walked along the canyon to have a look from the different viewpoint and managed to do all the South Rim. It was amazing and really breathtaking. When you look at such a kind of phenomenon created by Nature in millions of years, you just realize how small and precarious you are, compared to Nature and Time. But, it is exactly because of this that you feel the duty of give a better value to all the instants you spend, all things you see when discovering new places.
This was our last stop. My month of holiday was over. Now, at home, I feel richer than before and this is the reason why I love traveling.
1 comment