Home / Posts tagged 'buildings'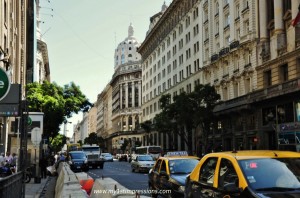 I AM FINALLY IN ARGENTINA and still cannot believe it yet. The warm air that welcomed me outside the airport on my arrival, together with the warm welcome of my family remember me that I had arrived on the other side of the world, where summer has just finished its course and slowly and lazy winter tries to take over.
It is a pleasure meeting and discovering all my Argentinian family. I am taking my time and this is the reason I haven't been writing anything yet. Sometimes you need to give time and space to what really matters in life, especially if you have been waiting fori t for years. So rather that just describing my emotions, I decided to live them fully and enjoy them at the most now tht I am here, and leave my life back for a while.
It was beautiful to meet them for the first time yesterday. The old stories we share are the same, just from a different point of view  and in a different part of the world. Something makes me feel I know them already since ages and this is amazing. I feel at home here, it's beautiful to see their old photos and listen to their stories, so similar to mine and to the ones of my family in Italy as well. It's just another country, but life is the same.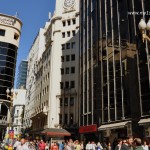 Everybody here in Argentina has their own roots in Europe, and most of them in Italy. It's part of their blood and you can see it in their faces shapes, in the colours of their eyes, in their habits, in their way to be Latin and Mediterranean, in their last names. It's a weird sensation to arrive somewhere so far and still discover habits that are the same in your own little village!
Yesterday I had my first introduction to Buenos Aires.
Buenos Aires is huge, never-ending, full of people everywhere and with the chaos of all the main European cities all together.
This town is full, packed, of people everywhere. Everything is huge. Crossing the Avenida de Mayo, the largest street in the world, can take more than 5 minutes, especially if the green traffic lights don't synchronize themselves.
The most common mean of transport here is the motorbike. I found it really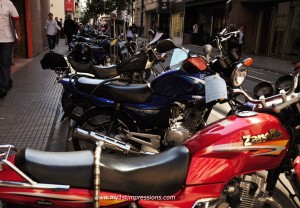 funny, as it remembered me of the scooters of Rome, or the bicycles of Amsterdam, with the only difference that those motorbikes make everything much more noisy. This, together with the incredible amount of cars, buses, ambulances, vans, scooters, people and tourists make the town acoustic pollution exploding.
According to the Portenos ( the name Baires people use to call themselves), Buenos Aires is very dangerous, to the point that people can even shoot you just to steal you bag. There is a certain pessimism by the Portenos about the security of the town, ad this is pretty impressive as all of them think the same, while tourists don't even seem to notice it that much. It happened that I was sitting at a table with my aunt enjoying a coffee in the city centre, and I put any camera on a table for few minutes, and a gentleman sited next t use interrupted our conversation just to give me an advise: do not leave the camera on the table like that, as it can attract a lot of people to steal it in few seconds. I found it really scary the fact that all the people in Buenos Aires are aware of this uncertain security, and a pity the fact that the inhabitants of a town cannot enjoy it fully.
Despite this, the  town is full of tourists hanging around everywhere.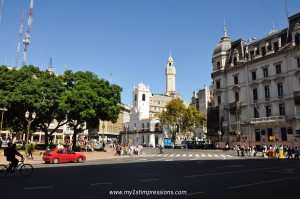 Buenos Aires is huge, but beautiful as well. A lot of different barrios make it a place to discover slowly. The colours of the town change as well as the shapes of the buildings…some parts are so different from the centre that it seems you are somewhere else. Everything is huge here, the streets, the parks, the buildings, everything gives you the feeling of being small, unknown and with no power, until you meet its people, a bunch of joyful and friendly, passionate dudes who seem all to know each other in a town with 10 millions inhabitants..
Buenos Aires is a place of contrasts, like all the town in Latin America I suppose. It has an European appeal and a Latin essence living together and sometimes hurting each other..
It needs more than a day to be understood and discovered for sure…