Simply glorious! If I would have to use a word to use to describe such a great day, it would be this one. The sun started to shine early this morning, and even before it was right in the sky, we were all already on board of the truck, hitting the Southern road of Iceland. we left Vik after a great stay at Lundi hotel, where we found comfotable beds to welcome us after the first hrd day.

We switched off the light soon, enjoying the day becoming lighter an lighter, in its fabulous pink colours, lasting forever . It was around 10.30 when the sun finally came up the horizon, and we were already somewhere far away from Vik, heading East.
Life in the truck is setting up. We talk a lot,sharing knowledge, experience and info about ourselves, in order to know each other better.
I started to share my photography knowledge with Britney, American, who was shooting in Automatic with DLSR camera. We got great shooting at the Lagoon, where we stopped at sunset.
The Glacier Lagoon is probably the most amazing place in Iceland. The Glacier comes down the mountain and stop right few meters in front of you.
On one side of the Lagoon you see these huge pieces of blue ice melting under the sunset sun. Today I got the impression to be back in Patagonia, same colours and same amazing feeling of power and beauty. I looked back at some photos of Patagonia and recognized not only the same kind of landscape but also the memory of the time I was there, when I kept repeating how much Patagonia looked like Iceland.
On the other side of the lagoon there is the sea, and ice, a lot of ice laying on the black beach. In the windy seaside, huge icebergs were getting further and further, changing their route and shapes according to the waves.
Looking at the ice closer, you could see some plants stacked and frozen inside. It looked like a beautiful masterpiece of crystal and ice.
Th ice was shining in the red sun rays, it was enlighting our face and the surrounding. It was beautiful and peaceful. No tourists around, just quietness and the breath of Mother Nature. I know now why I always came up here in winter, for this unique experience of wilderness that you will never ever find in summer during the touristic season.
Th road was long, the wind was cold, the atmosphere was great. We are going now for 2 days and I feel already like this is part of my life since ever. The office life, the routine, the days sent dreaming about something else, are just a far away memory on these amazing days on the road.
Semplicemente glorioso. Se dovessi usare solo una parole per descrivere una giornata come questa, sceglierei quest'ultima. Il sole ha iniziato a brillare presto questo mattina, e prima ancora che fosse lassu' nel cielo, ni eravamo gia' tutti nel camion in partenza per Hofn.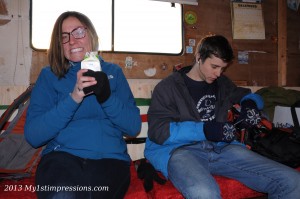 Abbiamo spento la luce prestissimo, per goderci la meraviglia del sole che sorge sulla costa Sud dell' Islanda. Il sole ha iniziato a colorare il cielo di rosa dalle 9, ma solamente verso le 10.30 si e' finalmente affacciato su questa parte di mondo, quando ormai eravamo gia' lontanissimi da Vik.
La vita nel camion sta prendendo forma. Parliamo tutti tantissimo, condividiamo impressioni e conoscenze, esperienze an informazioni su noi stessi, per conoscerci meglio.
Ho iniziato ad insegnare quello che so sulla fotografia a Britney, un'americana, che fotografa in automatico con una macchina fotografica professionale. Abbiamo fatto foto spettacolari alla Laguna di Ghiaccio, dove siamo arrivati e abbiamo fatto sosta al tramonto.
La Laguna di ghiaccio e' forse i posto piu' bello dell'Islanda. Il ghiacciaio scende fino a pochi passi dalla strada. Da un lato della laguna si vedono enormi pezzi di ghiaccio blue che si sciolgono sotto il sole. Oggi ho avuto l'impressione che fossi di nuovo in Patagonia, sessi colori es tesse sensazioni di bellezza selvaggia.
Ho cosi' rivisto alcune foto della Patagonia e riconosciuto non solo lo stesso tipo di paesaggio ma anche il ricordo d quando devo a tutti che quel posto somigliava tanto all'Islanda.
Dall'altro lato della laguna, ra i mare e la sabbia lavica, giacciono enormi pezzi i ghiaccio che brillavano al sole del tramonto.
Il sole sembrava quasi caldo stasera, e illuminava i nostri volti al tramonto. Era tutto stupendo e pacifico. Non c'erano turisti in giro per chilometri, solo pace e la bellezza di Madre Terra che sfiorava l'orizzonte. La' davanti, mi sono ricordata del motivo per cui vengo in Islanda sempre in inverno, per vivere un'avventura incredibile e respirare il profumo di questa terra selvaggia senza turisti in giro come nei mesi estivi.
Oggi la strada era lunga, il vento freddo ma l'atmosfera fantastica. Sono gia' due giorni che siamo in viaggio e sento gia' questo viaggio come parte profonda della mia vita da sempre. La vita di ufficio, la routine quotidiana, i giorni passati a sognare davanti allo schermo di un computer sono solo ricordi di questa avventura che e' ormai viva per la strada.
5 comments
Add comment